Dental Implants
---
Dental Implants Ahmedabad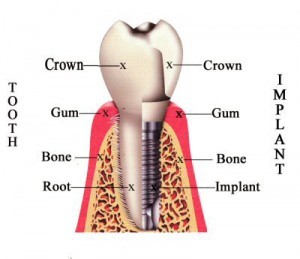 Dental Implants are the most recent and advanced form in dentistry through which new teeth can be restored without damaging the adjacent teeth & feels absolutely natural.
Implant reconstructive surgery is a highly specialized & skillful form of dentistry which combines all the elements of periodontics, prosthodontics & oral surgery.
Dental implant
 is a small titanium metal post which serve as a substitute to natural tooth root, it is surgically implanted into the jaw bone after which a permanent stable artificial fixed tooth is made on it.
Dental implant act & feel just like natural teeth and overcome many disadvantages & challenges of dentures, bridges & other routine dental treatments.
Over the course of 30 years, the technology of implant d
entistry has evolved rapidly. Implants are nowadays made of durable materials like Titanium Alloys and are designed to hold for many years. It is expected today that success rates of implants over 10 years period are more than 90% to 95%.
It has been proved scientifically & statistically that dental implants are safe effective & reliable, at the same time they provide physical value & immeasurable emotional benefit. Dental implants are hope and the only solutions for those who thought they had no alternatives